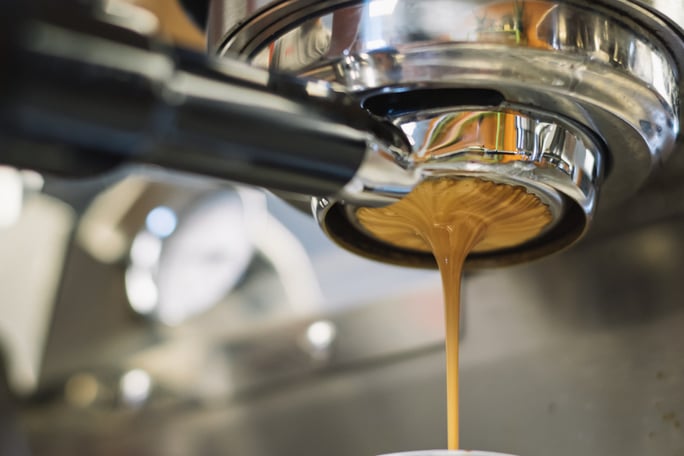 Running a profitable coffee shop is an exercise in speed and efficiency. You need speed to keep your customer line moving, efficiency to manage inventory, and a little of both to handle hiccups like equipment repairs.
The faster you can do these things (and do them well), the more product you'll sell in less time—and without overstaffing. With any luck, you'll have time leftover for things like planning your next location and keeping up with specialty coffee trends. Maybe even traveling to origin!
Crosstrain your coffee shop staff
Your baristas' top priorities are making consistent and delicious coffee drinks and keeping their workstations clean and stocked. They should also know how to open and close the shop, how to run the point-of-sale system, take deliveries, and prepare and serve all menu items. At least a handful of them should know how to track inventory, and balance the register.
Make sure baristas can multitask
Watch what your staff is doing. Are they staring out the window while tables need to be wiped down and bus tubs need to be emptied? Even something as small as wiping down a counter or popping a bagel in the toaster while a smoothie is being blended can keep them one step ahead during rush periods. Train everyone to work quickly and accurately, so they can also take the time to treat guests with respect and care.
The more tasks your staff can master and juggle, the fewer you'll need to schedule for each shift—keeping your labor costs in check. (Also, having staff standing around due to overstaffing just looks bad.) If you find that you've overscheduled, send someone home early.
Have backup product handy
As part of training your staff, make sure your drink/food prep and condiment areas are stocked up at all times, and have backup product nearby. During lulls, make sure you're stocked and ready for a sudden surge of customers. Nothing kills a barista's groove and a customer's mood quicker than saying, "I'll be back in a few minutes," as you run to the storeroom or walk-in.
Streamline your café or coffee shop layout
Speaking of quick service, you need an intuitive place for customers to line up and place orders, and for them to wait for their drinks and food. And if your coffee or food prep areas are not well designed and require a lot of back and forth movement, you limit your potential for sales volume while also increasing your labor costs. Smart employees can tell when a system is inefficient, and they'll be happier if you can help them do more in less time.
Pick coffee equipment that can handle your sales volume
Invest in powerful espresso equipment, grinders with features like oversized hoppers and fixed-weight tampers and blenders that will save you time on drink prep and stand up to heavy use,. You also need a smart plan of action should a piece of equipment go down. This could be having two two-group espresso machines and a few grinders, so you're never completely shutdown. This is especially important in more rural areas where a repair person might not be able to show up until the next day.
You should also be able to troubleshoot equipment issues and fix basic glitches, and have a relationship with a good machine tech to maintain your equipment (and free up your time).
Use frappe powders and smoothie concentrates to speed up your drink-prep time
All-in-one (or mostly all-in-one) frappe powder or smoothie concentrate products that are fast and easy for your staff to use in creating consist drinks will keep your food costs down. Instead of pulling frozen fruit (or multiple kinds) from the freezer, ice from the ice machine, milk or juice from the refrigerator, and sauce or syrup from pump bottles (plus returning these items to their shelves), you can pour or scoop a frappe or smoothie base over ice and water or milk, and get on with blending. You'll avoid mis-measurement of ingredients and shave substantial seconds off your drink-prep time, which add up over the course of the morning rush.
Streamline your inventory management
Instead of ordering products from several vendors, get the bulk of your supplies from a distributor that offers online ordering, and can deliver product to each of your locations. Instead of you having to drive supplies to each store (while keeping perishables cold), you'll be stocked up at all locations. Your distributor can also help you manage orders by reporting on your weekly averages and forecasting when you'll need to order again.
This will save you time on inventory and ordering, and you won't find yourself running out to Costco for stopgap supplies. Your time is better spent training staff, overseeing operations, and getting to know your customers.
Choose the right coffee shop supplies vendor
We think we're that vendor. If you're looking for a wholesale coffee shop supplies vendor that's more than just a catalog and a customer service line, we're here for you. We can manage your equipment maintenance, forecast your orders and inventory needs, and provide plenty of tips on streamlining your processes
Our decades of experience in the industry and passionate sales experts (who all come directly from the coffee and restaurant industry themselves) are here to assist you in getting your coffee shop strategy right the first time. Get in touch with us to learn how we can help you take your next step.
More posts in this series:
Coffee Shop Strategy 101: How to Control Coffee Shop Inventory & Food Costs
Coffee Shop Strategy 101: Targeting Your Concept to Your Customers